Moog vs Acdelco Ball Joints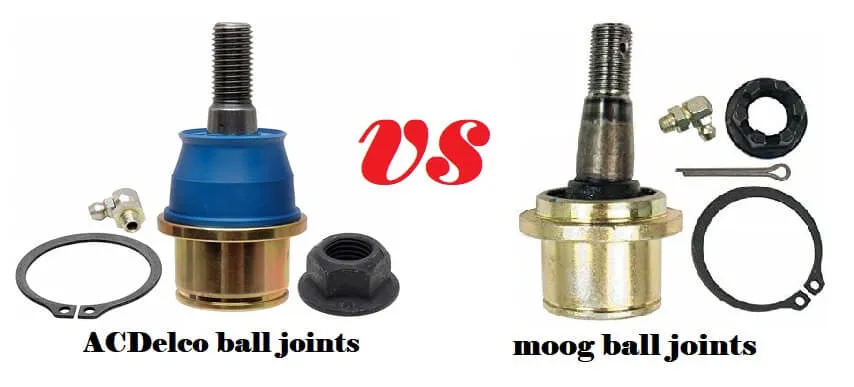 To drive safely and smoothly, you need proper coordination between the wheel and suspension of your vehicle. The way your body joints works to make you mobile, the ball joints work similarly. And just the way the absence of ball joints will create friction to your bones and end up damaging them, a vehicle without ball joints will face conflict among the wheel and suspension. Ball joints basically function between the steering knuckle and the control arm; it works as a pivot and allows the wheels to move and turn.
Moog vs ACDelco Ball Joints
| | |
| --- | --- |
| | |
| | |
| Design for 4WD cars and trucks | Special for General Motors vehicles |
| Meet the OE requirements succesfully | Premium aftermarket replacement for meet your expectations |
| | |
| Greasable socket reduces corrosion and wear | Greaseable design for long lasting life |
| Polychloroprene Sealed Boot | |
| It has a grease able socket design. This feature flushes the pollutants and ads lubricants. | Comes with coated for corrosion resistance and long life |
| | Limited Lifetime Warranty |
| | |
These ball joints also help the wheels to manage the vehicle weight. As ball joints are essential, you must careful before installing it in your car. To get the best one installed, you need a little research over the giant brands in the ball joint manufacturing sector.
The Moog and The ACDelco are the most prominent brands that manufacture the best quality ball joints. The internet has been taken over with Moog vs ACDelco rivalry. Both the brands ensure the basic features and also the added luxury features. There is nothing significant that can differentiate between these two brands. They are perfect in their services. But sometimes it depends on customer choices and their particular preferences.
Top Trending: Moog vs Timken Wheel Bearing
To get proper knowledge over the comparison, firstly let's analyze the target vehicle models of these brands. The Moog ball joints focus on Dodge and Ford vehicles. Recently, Moog has brought parts that can be installed on every car model. When it comes to ACDelco, this brand focus on both GM and non- GM vehicles. The Moog offers oversized housing and ensures more lubrication and less metal friction. On the contrary, The ACDelco ball joints offer forged accommodation for durability and secured fit. To know more about the similarities and dissimulates between the Moog and the ACDelco go through the content below and explore more.
Short Review on the Moog Ball Joints
Moog ball joints are the only in the market that ensures powdered metal gusher bearing features. This feature reduces friction and ensures a long life span. Moreover, this ball joint is extremely sturdy and works great on tight fittings.
Features
One-piece oversized forged housing.

Lifetime Warranty

Fully hardened body material for long life span

Ensures secured steering comfort while driving.
Short Review on the ACDelco Ball Joints
This ISO certified ball joint brand is the traditional and most famous ball joint brand that you can ever ask for. The best feature of this brand is the combination of economical price and loaded features.
It is tested under extreme situations to estimate durability.

It has a machined shell that makes it a superstring.

12 months warranty.
What is a Ball joint?
In the car the front suspension is pretty complex as the links, joints and bearings are assembled there. One of those components is ball joints. This is the tech that creates the links and allows us to move in intended direction. This function can be observed in our body too. The upper parts of our body are connected to the lower body parts through the hip joint. Our precise and accurate control over the vehicle results from the ball joints pivoting in the middle. 
The part is relatively small compared with considerable responsibility. Housing filled with grease and a ball/stud to move in is what's in the tech. ball joints can be sealed or open. The sealed one is seen as a stock ball joints. As of such huge importance, it is wiser not to drive with a worn-out or bad ball joints as incidents like loss of control can occur in very short notice.  
ACDelco Advantage Ball Joints
The company is known for its supreme quality (OE) aftermarket automotive parts. The producer of all most all kinds' auto parts makes their product portfolio into a highly enforced one. On top of such high-quality products, they have introduced a new line of ball joints to target a larger market segment. They are calling this advantage ball joints. So what made them do it? The need for an economical solution of ball joints was always on the cards. The company's effort provided top quality product to replace your stock balls and not feel the difference. Advantage joints have one piece housing with a polyurethane boot.
Joints are well tested and being performance-oriented; they hardly fail to meet up the expectation. Ball joints are always a vital member of your suspension system. It is easy to assume that you won't put your faith in some random product. With the ultimate quality and shining brand name, the advantage ball joint at this price is a catch.