Dexos 1 vs Dexos 2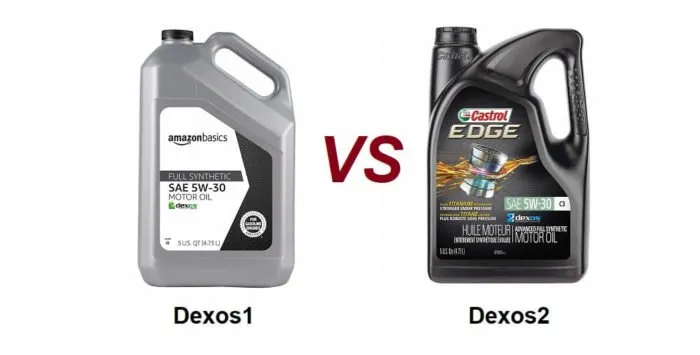 GM decided to take your vehicle engine safety to another level with the exploration of a rare blend of engine oil. Like many other car manufacturer companies, GM also found something exceptional to feed their engine. According to some recent studies, the different engine may react differently in any blend of engine oils. As per the study GM decided to introduce its users to engine oil with certain blends that match particular GM models.
This is oil is named as Dexos and it has several classifications to meet different engines' specifications. These oils are basically pure synthetic oil with additives added on; work to increase mileage and to protect engine. These specialized blends are robust to your engine and enhance engine's lifespan. These oils are globally found for GM engines.
Read Next: Difference Between 0w40 and 5w30
Basically there are two categories of Dexos are available and they are Dexos 1 and Dexos 2. Both are different in their duties and are suitable for different models. Yet the internet is flooded with the basic Dexos1 vs Dexos2 comparison. To start the debate, the most convenient difference between these two classifications is their aimed models. Dexos 1 works for gasoline engine and Dexos 2 is for diesel engine and in some cases for gasoline engines as well.
Earlier GM suggested Dexos 2 for mass use but recently they discovered that this oil blend does not cover LSPI. Thus recently this oil is being used only for diesel engines. On the other hand the Dexos 1 oil has been evolved with two different categories and the Dexos1 gen 2 is the most updated one. This category is recommended for mass use at present.
Dexos 1 Versus Dexos 2 Table
| | |
| --- | --- |
| | |
| | |
| Suitable Engines are Gasoline engine | Suitable Engines are Diesel Engine |
| | |
| Replacement with GM6094M, GM-LL-A-025, and GM4718 | Replacement with GM-LL-B-025 and GM-LL-A-025 |
| Focuses on Asian and North American Region | Focuses on European Region |
| This is suitable for models manufactured after 2011. | This oil is also suitable for models after 2011 but it can be okay with previous models as well. |
| Meets ILSAC GF-5 & API SN Service Classification | Meets API SN and ACEA C2/A5/B5 Service Classification |
| Excellent Protection Against Formation of Sludge and Other Harmful Deposits | Excellent Protection Against Formation of Sludge and Other Harmful Deposits |
| Relatively high thus it can handle the oil change interval upto 15000 miles. | Relatively low and cannot handle the oil change interval for a long time. |
| Helps prevent build up that can cause rust and corrosion | Formulated for highly tuned four cylinder and latest technology engines |
| | |
| | |
Short Review on Dexos 1 Oil
This oil is manufactured to optimize engine performance and life span with the pure synthetic blend. No matter you use your vehicle for domestic or professional use, this oil blend is perfect for your engine's cleanliness and fuel efficiency.
Specifications
Designed for gasoline engines
Ensures utmost safety during high temperature.
Surpasses ILSAC GF-5/API SN standards
The best solution to low speed, filth deposits, and fuel issues.
Ensures the flow pump even in the lowest temperature
Short Review on Dexos 2 Oil
This oil is your tonic to maintain your modern age vehicle diesel or petrol engines. But the mesmerizing fact of this oil is, it can also work great on previous GM models as well. This engine oil is environment -friendly as it cuts the emission of chemical deposits.
Specifications
Designed for Diesel engines.
This oil is a great replacement for OEM specifications.
Ensures enhanced cleaning power and works against engine wear.
This oil is super sturdy.
What is dexos oil?
Engine oils that are built with particular sets of prerequisites are called dexos oil. The oil is fully synthetic and brought into the market in 2011 for main engines that run on gasoline. Later the oil was engineered for diesel engines too. Suggested for cars of 2011 or newer version, this oil is known for its ability to keep the engine clean and provide better mileage.
What happens if I don't use dexos oil?
As per users and experts there are no problems like engine detriment or less mileage as long as the fuels are entirely synthetic. The manufacturer although, claims an increase in vehicle performance using the stated oil. We would recommend taking no chance while you are protected under the warranty as the service center can ask you to show receipt of oil used. Failing to show specifics can shorten your claim on the warranty.
What brands of oil are dexos?
Most of the oils in the category have a viscosity of 0w20, 5w20 or 5w30. The quality of the synthetic stocks used is best in the business. Meeting the requirements and industry set standards, many companies now produce the oil. The list is huge. Some of the big names who excel in making the product are Vesco, GM, Amalie, Shell, Castrol, Valvoline, ExxonMobil and many more.
How much is a dexos oil change?
The oil change for the following product will cost you an additional of 30 percent. In terms of number, say that you have to pay 5 dollars extra for every oil change. But implementing this oil, your car will perform better in every sphere and you will be good for like 10,000 miles where the conventional oil needs to be changed after every 3,000 miles with no significant benefits in the performance.