Bilstein 5100 vs fox 2.0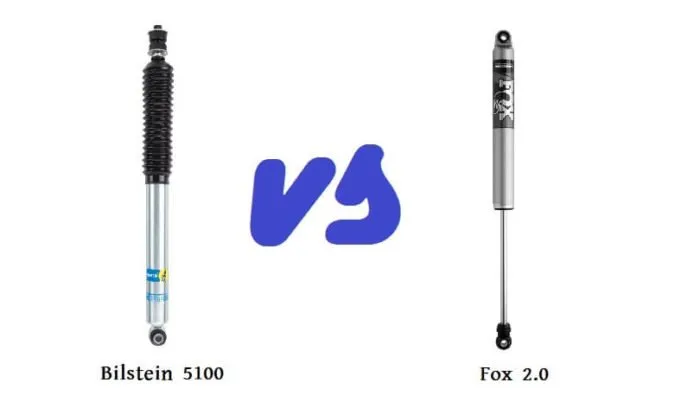 Recently there is been a face off between the giant brands of shocks absorbent and this content is to decode the winner. Well, both the Bilstein 5100 and Fox 2.0 are masterpieces in their perspectives. But for an extended comparison, we may put the Fox 2.0 a step higher than the Bilstein 5100 model.
Basically, the whole comparison depends on the ride you want and the kind of driver you are. For your extensive off-road racing car, you cannot but rely on the aluminum-bodied Fox 2.0. The valving feature in the whole Fox series is so good that you get an actual suspension for your vehicle and do not have to settle for an ill set suspension. This shock with its rebuilding quality appears more like a dream catcher for the drivers who want specific suspension for their vehicles.
Bilstein 5100 or Fox 2.0
| | |
| --- | --- |
| | |
| | |
| | |
| | |
| | |
| Heat Dissipation Performance Good | Heat Dissipation Performance Better |
| Design functions dampening the weight. | Monotube gas charged thus masters dampening the extra load. |
| No specific valving adjust adjustability | Specific valving adjust available |
| Body Material 'Zinc Plated Steel" | |
| Having around 200 PSI number of Nitrogen gas this shock provides firm ride over the trails. It is steady when you drive through the bumps. | Having the PSI 3000 Nitrogen gas, this shock makes your ride way sturdier than ever. It is extremely steady even through the aggressive race tracks. |
| It works great for go to journey and can ever support through moderate trails. The height lifting features along with the appropriate body size, this shock is nothing but a treat to your everyday vehicle. | The aluminum body is lightweight and dissipates the heat better. Thus firmer ride is promised. |
| | |
On the opposite side, Bilstein 5100 is more like the mid-level budget-friendly shock absorbent that is your best friend on a day to day usage. Though it performs like magic you cannot expect any extravagance features and performance on aggressive roads. But for less adventurous and more basic usage, none can beat this shock.
Read Next: Bilstein 5100 vs Rancho 9000
To sum up, in a sentence, it all depends on how you want to use the suspension of your car as both the models are pioneers in their respective categories.
Quick Review of FOX 2.0
This model although is an entry-level shock-absorbent yet Better heat dissipation, keeps the shock cool and ensures a safe drive. This fox 2.0 shock-absorbent belongs to the extensive clan but also provides fancy features.
Specifications
After every 50,000 miles street crossing, this model can be rebuilt.
It has threaded Coil over thus great for adjustment.
Specific fit for every vehicle.
The high-speed ride is great both over on-road and off-road. But as long as it concerns to off-road, this is something to die for.
How to adjust bilstein 5100 shocks?
With the shocks, we can have a leveled front and achieve a cheap way of the lift. The adjustment can be done using a snap ring. First change the coil spring position and adjust the height as per your comfort. Then install the struts. The only added cost here is that you have to buy an alignment (front end). The use of the struts will reduce your cost as no other installment is required. If you want to change once after the installation is finished, you have to do the whole process again.
Where to buy bilstein 5100 shocks?
These shocks are one of the most renowned shocks in the world. It can be found all over the world, thanks to the company's widespread network. The German corporation has revolutionized the shocks and the well-trained employees at the service centers earned everyone's respect. You can also find the shocks on any E-com websites like Amazon, E-bay and so.
How long do fox shocks last?
Shocks of this kind usually last for 50,000 miles. Average lifespan of shock is about 50,000miles. But the lifetime depends on where you are driving and how you are driving. For example, if you drive off-road mostly then the shocks will wear out faster. Shocks produced by the company are made especially for off-road driving, so the shocks' lifespan is impressive to be true.
Are fox shocks worth the money?
It is more of a subjective question. Well if you drive a lot off the road, then you are in luck. For off road driving and heavy lifting, this is the perfect shocks for you. The quick cycles and a flexing ability can't be found in the fellow shocks. Yes, this is a great shock and worth you investment. But if you are a city driver and mostly drive on the paved roads then we suggest adjustable shocks for your betterment.